High Performance
NSW Touch Football Athlete Pathway
NRL Touch Premiership
The NRL Touch Premiership was introduced in 2018 and included three partner entities from the Newcastle Knights, Parramatta Eels and Wests Tigers.
This elite Open Men's and Open Women's competition is a League where the top 45 players in each gender are selected by the State Selection Panel. NRL Touch Football has released the draw for the 2019 NRL Touch Premiership.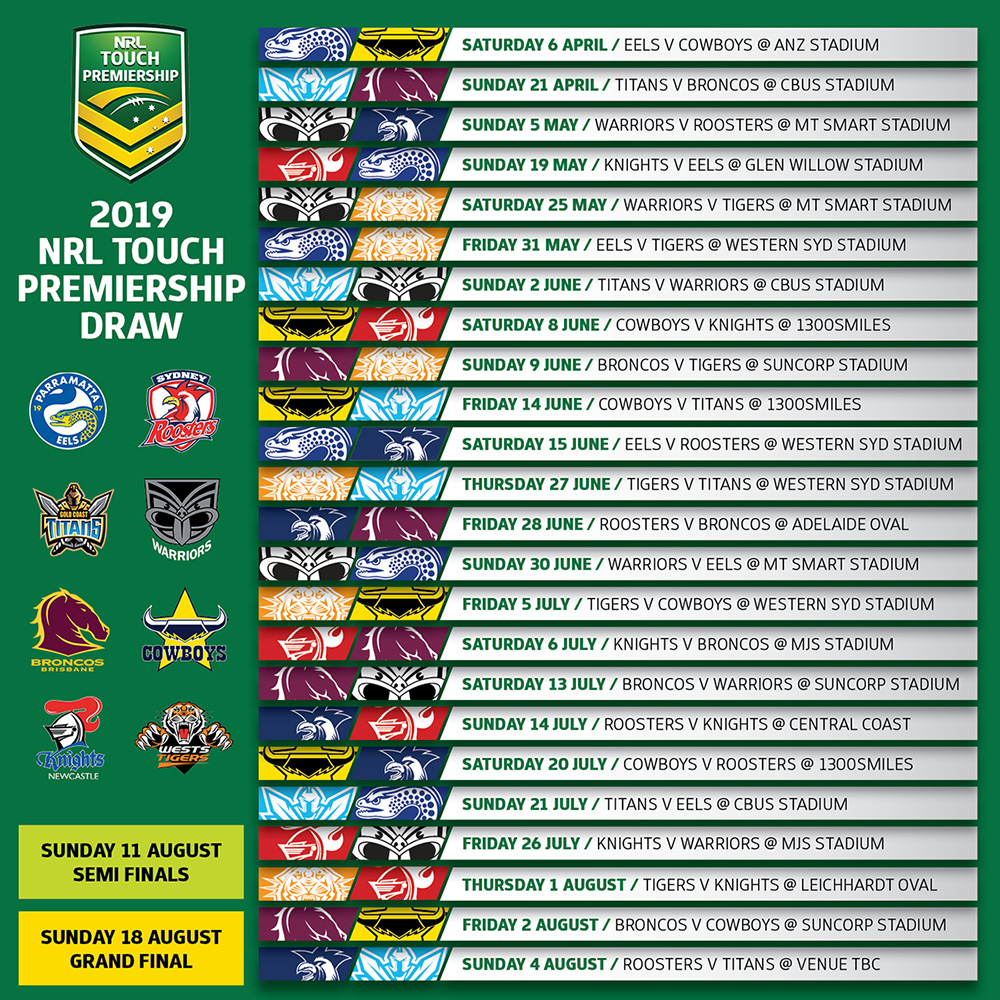 The second year of this elite touch football tournament will expand significantly, with more NRL clubs involved, and about four times as many game-days at many more stadiums across the country.
Games will be played as curtain-raisers to NRL matches, with broadcast details to be released shortly.
NRL Touch Football CEO Steve Mitchell said spectators seeing elite touch football for the first time in last year's inaugural tournament were surprised how entertaining the gameday experience is.
"Because of the speed of elite touch football, the phenomenal footwork, long balls, dives and the family-friendly nature of the sport, the NRL Touch Premiership has been coined as rugby league's answer to the Big Bash.
"But that was just the beginning," he added.
"With 26 gamedays involving eight NRL clubs, 240 elite athletes at 12 stadiums around the country, and more ways to tune in to the broadcast, the 2019 NRL Touch Premiership will really showcase elite touch football as the exciting spectator sport it is."
By the numbers…..
8 NRL clubs: The tournament has expanded from six NRL clubs in 2018 to eight in 2019, with the Sydney Roosters and the New Zealand Warriors joining the Wests Tigers, Parramatta Eels, Newcastle Knights, Gold Coast Titans, Brisbane Broncos and North Queensland Cowboys in this elite touch football tournament.
240 elite athletes: Each of the eight NRL clubs will field both an elite women's and elite men's touch team, meaning that more than 120 female and 120 male athletes will be competing to win their club a Premiership.
26 game-days: The tournament will also significantly extend in game-days – from just seven in 2018 to 26 in 2019. The tournament will run across five months of the NRL season, from 6th April to 18th August.
12 stadiums: Matches will be played at all major stadiums throughout Australia (including ANZ, Suncorp and CBUS Stadiums), as well as the brand new Western Sydney Stadium, Adelaide Oval, Glen Willow Stadium in Mudgee and Mt Smart Stadium in New Zealand. The ready-made audience of 680,000 Australian touch participants, and 260,000 in New Zealand, plus the related rugby league fan-base, will have the opportunity to spectate live in stadium.
National Touch League
The National Touch League is played each March and the event is conducted by Touch Football Australia. As the name suggests, the National competition includes teams in numerous divisions and are selected by each of the respective regional/state entities. For NSW we have six regions which are able to participate in all divisions offered; these include the Hunter Western Hornets, Northern NSW Eagles, Sydney Mets, Sydney Rebels, Sydney Scorpions and the Southern Suns. These NSW teams also compete against the following entities; ACT Raiders, Victorian Storm, South Australia Roosters, Western Australia, Northern Territory, South Queensland and Boarder District Sharks, South West Swans, Brisbane City Cobras, Sunshine Coast Pineapples, Central Queensland Bulls and North Queensland.
In 2019 the following divisions were played at the National Touch League
Open's: Men's, Women's and Mixed
Seniors: Men's 30, Women's 30 and Mixed Seniors
Masters: Men's 40, Women's 40, Men's 45 and Women's 45
Veterans: Men's 50, Men's 55 and Men's 60
Each of these divisions are viewed to assist in the selection process towards State of Origin 2020
State of Origin
The State of Origin Series is contested every even year between NSW Touch Football and Touch Football Queensland. The next State of Origin is scheduled for 2020 and to be hosted by NSW.
In 2018 the following divisions were played at the 2018 State of Origin
Youth: Men's 20 and Women's 20
Open's: Men's, Women's and Mixed
Seniors: Men's 30, Women's 30, Men's 35 and Women's 35
Masters: Men's 40, Women's 40, Men's 45
Veterans: Men's 50 and Men's 55
N.B Divisions for the 2020 State of Origin are currently under review.
NSWTA Development Teams
NSW Touch Football selects our own teams from the Junior Regional Championships for both 18's Boys and Girls. These teams once selected participate at the National Youth Championships which are held in Caloundra in each Year. The Development Team is selected from players that are no longer in the school system or have been unable to achieve selection for NSW Combined High Schools (NSWCHS), NSW Combined Catholic Colleges (NSWCCC) or NSW Independent Schools (NSWCIS)
For more information on the High-Performance arm of NSW Touch Football please contact;
Jocelyn Burnett
Sport Sport Coordinator
Email: [email protected]
Telephone: (02) 9558 9333
Mobile: 0409 360 363